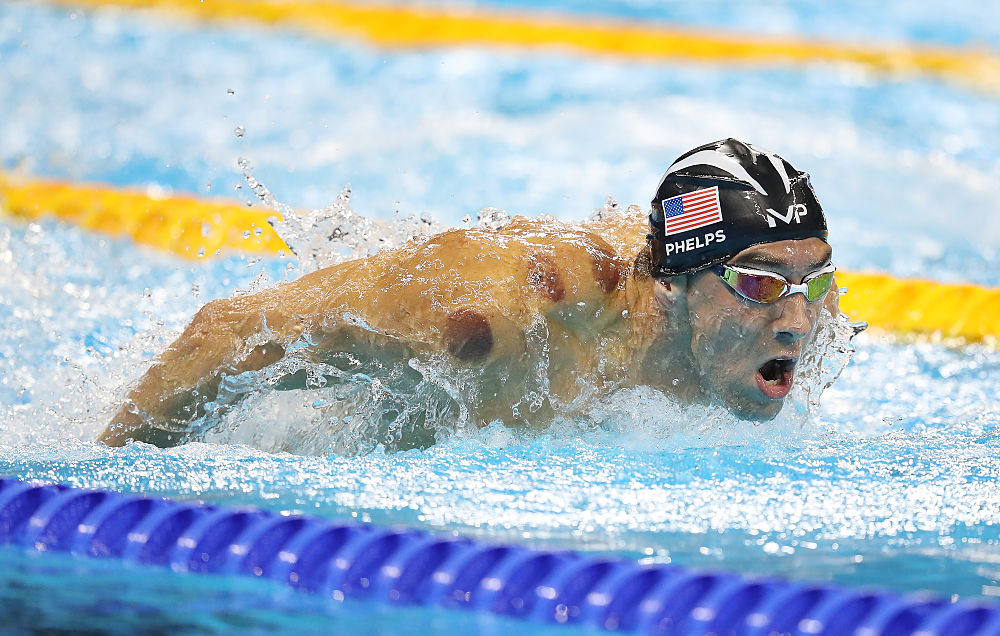 2016 Summer Olympics Edition
Unity Community Acupuncture Newsletter
You don't have to be an avid watcher of this summer's Olympic Games to know that cupping has been in the news lately. Ever since Olympic swimmer Michael Phelps was spotted sporting strange-looking purplish crop circles on his shoulders, there's been a steady buzz about this unique and ancient healing modality.
And simply put, the reason why this possibly 5,000 year old practice is now torpedoing your Facebook and News feeds is because it's a-w-e-s-o-m-e. It really is.
Cupping is a simple, safe, effective therapy for neck pain, achy and sore muscles, back pain, shoulder tightness, coughs, asthma, constipation, headaches, and sciatica.
Nowadays, many of us carry a lot of stress and tension in the neck, upper back, and between the shoulder blades. You may find yourself peeling away your shoulders from your earlobes after a particularly tension-filled day of too much computer time, too little exercise and movement, and way too much time sitting in Denver traffic. A good cupping session will help release tension held in the muscles and fascia, improve blood and fluid circulation, and leave you feeling deeply and contently relaxed.
How does cupping work? We use a small pump on the top of the cups to create negative pressure – a vacuum – that causes a sensation of gentle, controlled suction to help open up and release unhappy, restricted, and tension-filled areas of the body. Similar to a massage, some unpleasantness may be experienced if a cup is too tight or placed on a muscle that's really frozen tight, but overall, most people find cupping to be a deeply relaxing experience.
After a session, you may be left with maroonish-looking leopard spots – which are not bruises! In Chinese medicine, we consider these funky looking crop circles therapeutic – we're bringing stagnation in the form of muscular tension, poor blood circulation, and constricted lymph drainage to the surface so that it can release and resolve.
A cupping session typically lasts 15-30 minutes and costs $20-$40 (sliding scale). Book an appointment at unityacpuncture.com, and feel free to e-mail us at unityacupuncture@gmail.com if you have any questions.
---
We're on Instagram! Follow us @unityacupuncture for groovy memes, sweet artsy-inspired images of the clinic, easy-to-follow wellness tips, neat pictures of what we're eating, and info on all things acupuncture and Chinese Medicine related!

New Acupuncturist Spotlight
Kailey Brennan
Kailey Brennan joined Unity Community Acupuncture at the beginning of August. Prior to moving to Denver to receive her Master's in Traditional Chinese Medicine, Kailey worked in various capacities in the mental health and human services field – as a detox counselor at an addiction recovery center, a volunteer supervisor for a sexual assault hotline, and as a case manager working with adolescents struggling with addiction, eating disorders, and self-harm behaviors.
Kailey first tried acupuncture (in a community setting!) after experiencing sleep disruption, fatigue, and low-grade depression from working regular night shifts after college. The treatments were so powerful and effective that she decided to go back to school to study Chinese medicine.Kailey graduated from the Colorado School of Traditional Chinese Medicine in the Spring of 2015. The 3 year-long program provided a strong foundation in acupuncture (and related modalities such as moxibustion, cupping, auriculotherapy, and Chinese medical massage), Chinese herbal therapy, and Western medicine.
Kailey continues to do advanced training in meridian theory, the treatment of pain, moxibustion, the theory and practice of Chinese herbalism, 5 Element acupuncture, and palpatory techniques. She is a general practitioner with a special interest in the treatment of psycho-emotional distress, pain, stress management, insomnia, and preventative medicine. Kailey practices with a strong belief in this medicine's ability to promote greater self-awareness, stress resilience, compassionate self-care, and ease suffering of body and mind.
Outside of the clinic, Kailey enjoys painting, reading, cooking, seeing live music, and spending time with her beloved husband and pets – a black mouth cur mix named Moose and a 20 lb. Maine Coon named Hank. She's hoping to do a pull-up in Crossfit before the year 2018, and she's currently enjoying the second season of Longmire on Netflix.
Kailey is here Tuesdays and Thursdays from 2-6 pm and Saturdays from 9-1pm. Come in and say hi!
Copyright © 2016 Unity Community Acupuncture, All rights reserved.